Aloha Kākou,
Makauwahi Cave is currently open daily 10am - 4pm.

Please wear a mask and social distance. Makauwahi Cave Reserve: where past and future meet
Visitors generally agree that this place is unlike any other public site they have encountered. At the center of its many attractions is Hawaii`s largest limestone cave, the richest fossil site in the islands, and a uniquely preserved archaeological site. It's a living museum dedicated not just to the past, but also to experiments in native species conservation. On abandoned farms and quarry lands surrounding the cave, native plants and animals have returned in response to innovative restoration techniques. Acres of restored forest land, dune vegetation, and wetland habitat feature almost 100 species of native plants, including many endangered species, as well as endangered waterbirds and even an underground ecosystem of blind cave invertebrates.
click on an area to learn more Return to General
The Sinkhole
At the center of Makauwahi Cave lies a large collapsed-cave feature. This half-acre "sunken garden" was

the largest room of the cave until the roof fell in about 7000 years ago, forming a freshwater lake inside. Access is from signpost #15 of the self-guided nature trail. Please do not attempt to enter the cave when the gate is closed. Free guided tours Friday through Sunday day 10am - 4pm (donations welcomed).

Cave Guide
The Field
Some of Makauwahi Cave Reserve's most innovative experiments in native-plant restoration have occurred on the six acres of abandoned farmland local people call "Lida's Field of Dreams." On weed-infested, worn-out soils, native trees and shrubs have been re-established where none grew before. Inside securely fenced compounds, aggressive weeds that try to re-take the site are controlled by giant tortoises that prefer the emerging non-native, invasive plants to the thriving natives. The native plants produce a hefty seed crop each year that is harvested for use in other native plant restorations. In a single year recently, over 5 million native-plant seeds of about 40 species were harvested for use in other restorations.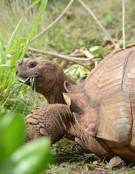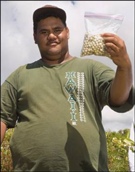 Abandoned Quarry
West of the Makauwahi Cave Reserve lies a vast rugged area that is an abandoned limestone quarry. Please do not enter this area. Grove Farm does not allow trespassing in the quarry, which has steep unstable cliffs, unmarked drop-offs, and loose rocks.
Self-Guided Nature Trail
The Makauwahi Cave Trail is an easy self-guiding walk of less than 1/2 mile. Waterproof boxes along the trail contain a brief guide that is keyed to numbered posts along the way. The trail provides views of the open ocean, estuary, beach flats, volcanoes, modern and fossil dunes, native plants, wildlife habitats, archaeological sites, and the Makauwahi Sinkhole from a variety of angles. For your safety, please stay on the marked foot trail, and do not use the nearby horse trail as a short-cut.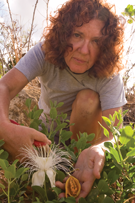 Trail Guide
An Integrated Site
The rich fossil-bearing sediments of Makauwahi Cave, over 10 m (33 feet) thick in some areas, have an unusual chemistry that preserves almost everything that fell in there over the last 10,000 years or more - animal fossils such as shells and bones, as well as plant fossils including seeds, leaves, and wood.

Microscopic fossils, including pollen, spores, algae, even DNA fragments, occur by the billions. This means that the two decades of scientific research there have yielded a very integrated picture of the entire prehistoric landscape and its changes over many millennia, including the time before human colonization and the changes that have occurred since.